Ashley Knight Driving Instructor reviews.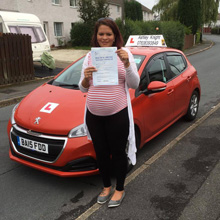 I passed my driving test first time whilst being 38 weeks pregnant!!!!
Ashley has been the most amazing patient and funny driving instructor. He took me, a very nervous girl out on the road (very brave lol) and gave me the confidence and skills to drive to a pass standard. Not only has he taught me how to drive but I have learnt so much about myself throughout the lessons not just driving skills but life skills as well. He made me reflect on my way of thinking especially around my low confidence in myself and my fear of failure. He always had confidence in me which in turn made me begin to feel confident about myself. I could have never got where I am with any other instructor because I don't think I would ever had the self esteem and confidence to put myself forward for a test. He has been more than just patient with me explaining everything along the way and answering any questions as stupid as they may seem. And above all else he made me laugh and feel at ease.
So I would like to say a MASSIVE thank you to Ashley and would recommend him to anyone and everyone. Thank you!!!!!
Paula Lewis Sunnyside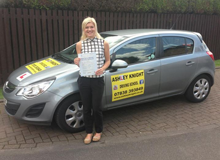 Thank you very much for being such a good teacher not only on driving lessons but in life too. I think with any other instructor my nerves would have got the better of me so thank you for being so calm and patient with me. My confidence with driving has grown dramatically over the weeks and will continue to do so in the future. Thank you for being someone to lend an ear on a Saturday morning. I will miss our chats and seeing a friendly face when getting in the car.
Many Thanks Danielle Muscroft Kimberworth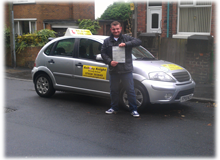 I came from another instructor that kept letting me down. Ashley assessed my needs, my timetable and worked around my funny shift patterns. The lessons were very comfortable and relaxed, the teaching was simple and very easy to understand - which for me was perfect because im not a car person. We worked towards the test in a very clear and concise fashion and every lesson I had I walked away feeling like I had accomplished something. Most of this is down to the support I had, even on bad days, things were reviewed and talked through really well; I never left with nothing. More importantly I passed and I consider myself a good and safe driver. Highly recommended.
Simon Rawmarsh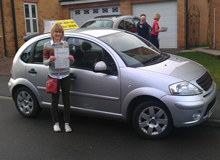 I would highly recommend Ashley! After ringing several instructors about crash courses Ashley was the only one who was honest! He was very helpful and interested in my needs and not by debit card details. Ashley took me out for an assessment lesson and told me my options. I had never driven before and feel I could not have done it in 17 lessons with out his great teaching! Lovely man who doesn't charge the earth. I would recommend him to anyone!!
Jessica Moody Rotherham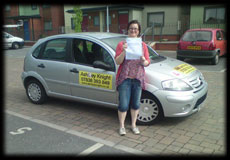 Ashley is an excellent Driving Instructor. With my previous Driving Instructor I fell for the cheap starter offers. I failed seven tests. As soon as I started lessons with Ashley he gave me the confidence boost I needed and the first test I took with Ashley I passed.
Lana Woods Rotherham
I came to Ashley from another instructor. I hated taking driving lessons before I started to take lessons with Ashley, to me they were two hours of being nagged. Ashley's great sense of humour and the stress free environment he creates helped to make driving fun - and this is when I actually started to learn to drive! I had a great time learning to drive with Ashley and I totally recommend him - Jane - Learn Direct Sheffield.‎
Jane Brigg
Ashley is a positive and influencial driving instructor, he taught me to drive step by step at my own pace and was very encouraging even when I didn't understand things. He never shouted at me and is a very tolerant and patient man, he had to be to put up with me!! he has a great sense of humour and always managed to put me at ease. The good thing about Ashley is that he doesn't just teach you how to pass your test, he teaches you how to drive and focuses on the skills you need once you have passed your test.‎
Lisa
I kept putting learning to drive off. My Dad booked me some lessons I am so glad. I found Ashley very understanding, he put me at ease from day one. Great value great instructor would Highly recommend!!!!!!!‎
Dave